---
Reels
Showreel 2012
---
RED WINE trailer
---
Every night I am falling out of nowhere trailer
---
Only Inn within 2 days walk trailer
---
Films
Every night I am falling out of nowhere
(2012), short film, UK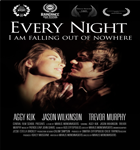 (official selection for New York City International Film Festival 2012, Raindance Film Festival 2012, Detmold Film Festival 2012, TAKES Film Festival 2012 and best screenplay award at Cyprus International Film Festival 2012)
Mirror mirror on the wall, keep me safe when I fall...
Amy is an 18 year old high school girl that follows the same routine each day. When she is invited to a friend's party she ends up outside a hotel's room door. Inside things start looking out of place and by the end of the night, she realizes that some things are not exactly as they look like...
---
Only inn within 2 days walk
(2011), short film, Greece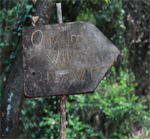 (official selection for Drama Short Film Festival 2012, Séquence court-métrage Toulouse 2012)
At the wrong place, at the wrong time...
A man is venturing deep into the wilderness when he comes across an old wooden sign. "Only Inn within 2 days walk" is what it's written on it and points even deeper into the forest. The man obviously intrigued, decides to follow it to what will soon be proved his peril...
---
SLEEP
(2011), short film, UK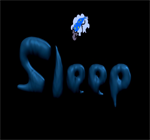 He would do anything in order to sleep...
When a young man decides to go to bed, the whole universe plots against him (including his neighbors). In the in the end, who will prevail?
---
When I close my eyes
(2010),short film, Denmark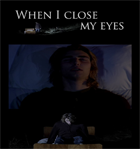 Is all that we see or seem, but a dream within a dream? Edgar Allan Poe
Even since childhood, Jason was always suffering from a rare sleeping disorder that put him at risk every time he falls asleep. When he loses however his girlfriend in a car accident, the only way to see her again is to dream of her. In an effort to retrieve what life has cruelly taken from him, Jason will risk everything for an other moment with his other half.
---
Nowhere
(2009), short film, Greece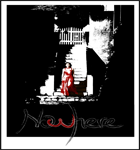 (official selection to represent Greece in online exhibition "Europe in shorts")
If true love is really only an idea in our minds and completely immaterial, why shouldn't it then be able to outlast death or effect us from the semi-reality of our dreams?.
Young Andreas drives to the barracks with his girl-friend Dimitra, the draft notice is pinned to the car's dashboard. Dimitra is crying, hysterical in mourning. In the middle of the night they stop in front of a derelict house and Andrew tells her the story of Ioli: a girl that found her true love in just this derelict house. It's a story that will seal the fate of Andrew and Dimitra, as the past permeates the present, but the future can also change the past...
---